Geez. Not bad for a 16 y/o:

You Are 50% Weird
Normal enough to know that you're weird...
But too damn weird to do anything about it!
How Weird Are You?
Wow... This is true:

Your Ideal Relationship is Serious Dating
You're not ready to go walking down the aisle.
But you may be ready in a couple of years.
You prefer to date one on one, with a commitment.
And while chemistry is important, so is compatibility.
**********
Geez. Nikko has been absent for many weeks. I dunno pero baka nga natuloy iyong operation niya. Almoranas raw.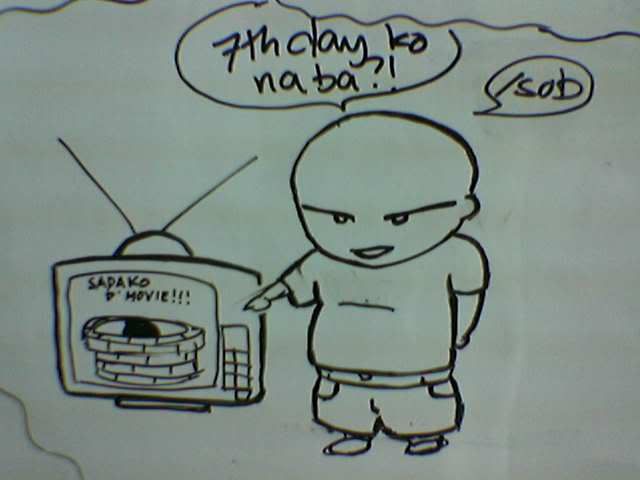 Nikko's drawing on the whiteboard (taken one schoolday afternoon)
I wonder if he would still attend the Finals. Hindi naman sa pag-aano pero syempre concern rin kami sa kalagayan niya. Kung pagiging practical ang pag-uusapan... sayang naman iyong ibinayad niya for the whole sem.
Anyway, aral na ako guys! Monday na start ng Finals Week namin. Geez. Good luck sakin! (Good thing, exempted ako sa Algebra. Hehe. Hindi na ako papasok this Wednesday. I have more time to study for the subjects na itetest for Thursday and Friday... and more time to surf the net.) LOL...