Since I am too lazy to drag myself from bed
that
early, my mom was the one who enrolled me for second semester the day before the other day. (Awww.. My mom is the best.)
Anyway, below are the subjects (for the 2nd sem) and their corresponding units:
Theology 2
--- 3 units
English 1: Communication Skills 1
--- 3 units
Filipino 2: Pagbasa at Pagsulat sa Iba't Ibang Disiplina
--- 3 units
Hum. 2: Philosophy of Man
--- 3 units
Social Science 2: Sociology and Anthropology
---3 units
Natural Science 2: Organic Chemistry
---5 units
Related Course 1: Human Anatomy & Physiology
--- 5 units
P.E. 2: Rhythmic and Aquatic
--- 2 units
Civic Welfare and Training Service
--- 3 units
Oh cripes! Come on. Look, look again. I know they are nothing compared to Hermione's. But hey! Fiction are called such because it's a product of the author's imagination so quit it
self
.
Sheesh. But you know what is worst? As in the worst??
**drum rolls**
It is the schedule man!! The freaking schedule. Arrrgggh. I have whole day classes from Monday to Saturday (Wednesday excluded, thank God). And the earliest time I could go home would be 4 in the afternoon, that is Monday. And the rest would either be 7 or 7:30 pm. Arrrgggh
again
.
Pfft. Why the heck are you complaining
self
..?? It was you (and only you) who chose this course and now you are complaining as if it was push into your face. Why can't you just shoot yourself and get it over with anyway?
Yes. Yes. Bloody brilliant. But I am not that mad. Oh well, at least not yet. Oh God, I really really must stop talking to myself or this will become a habit.
Anyway, back to normal me.
We will have swimming as our P.E. subject. And yes of course, we will all wear proper uniform on the pool (swimsuit for girls and trunks for boys).. But honestly, I'm quite uneasy just by thinking I will be wearing a one-piece swimsuit in front of my classmates.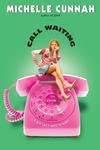 Though I assure you I have already accepted myself for who I am (i.e., small-breasted and skinny aka "bones and everything bones"). Besides.. let me just quote something from
Call Waiting
by Michelle Cunnah: "
After all, bigger boobs would only make me front-heavy, which is a bad thing because (apart from possibility of curvature of spine problem, or implants exploding on airplane due to air pressure problem) bigger boobs would only make me prone to falling on my face. Or not exactly on my face on account of surgically enhanced boobs breaking my fall--image of me bouncing along sidewalk on stiff implants is not attractive.."
Lol. Anyway, the only thing that makes me uneasy with the thought of the
Swimsuit and I
thing is that ahm.. You see, in our annual family outings on the beach, I never wear a swimsuit (well, childhood excluded). Not that I have scars on my legs or something but because of the sole reason of me being a skinny one.. I think a swimsuit just won't look good on me..
Darn. Surely, there's still an existing part of me wanting some curves. *sighs*
**********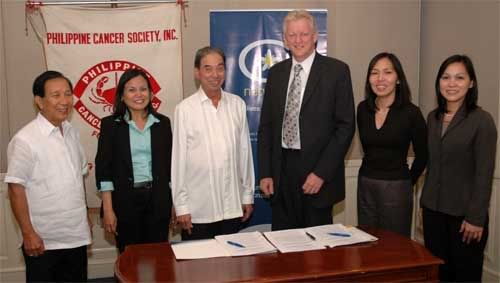 I have good news (for myself). I won't be having any operation in the near future. For those who can't relate with what I'm saying, maybe you should read my
Wonder Who She Is?
post. Hmm... So, we got our 3rd opinion, and this time to no other than Doctor Eufemio, the president of Philippine Cancer Society (third person from the left, wearing white
barong
).. The second I entered, he immediately said (while reading my ultrasound result): "
Wag kang mag-alala (
Don't worry
). Your lumps are due to hormones
.
It's not cancerous
. " The moment I heard him said that, I sighed with so much relief. It was like I've never heard a real good news for six months. I'm so thankful. You might wonder why my mom and I believed him? It's because he said it with so much honesty that I felt it came from his heart. He's not like the other doctors who say: "
Kailangan ng operahin iyan para malaman kung malignant or benign
. (It's a must for you to undergo a surgery to know if those lumps are malignant or benign)"
**********
Haha.. Isn't it cool? I customized the pic. Want yours? Well, check out Hetemeel for yourself. Four pictures are waiting for you to be customized. I like this (Einsten) and the dictionary pic. Cool.
P.S.: Before you leave my blog, could you please do me a favor? Please welcome Emily Anne, my tenant of the week. Lol. I got 13 bids from BE but I chose her instead because she's a fellow Filipina and she got a really cool blog. C'mon, don't be such a fabbo, click the featured blog located on my left sidebar.. and give her the warmest welcome you know. Thankies a bunchies guys!