At least, for now.
Classes on all levels were suspended because of
this
.. kaya heto ako, nasa harapan ng PC.. buong araw na nag-iinternet! *grins*
**********
Updates! 1st week of my February...
February 2: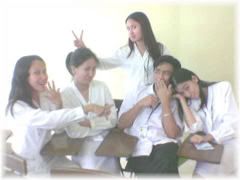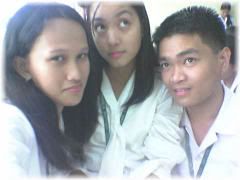 February 3 and February 4: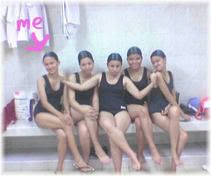 February 5 and 6: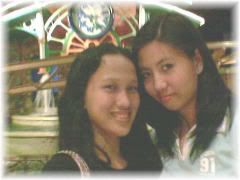 - Iyong 1st pic ay sa loob ng Storyland, SM Southmall. That's me and Jecha obviously.
- Iyong next 3 pics ay outside lang ng Baclaran church. We're interviewing people for our Theology assignment.
February 7: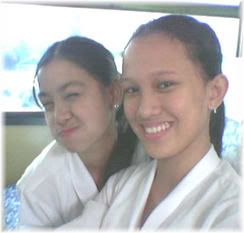 - We're inside a bus papuntang SM Southmall uli. We were dismissed early kaya we decided na lang to watch Saw 2.
February 8:
- Nagpunta kami sa Lucban Elementary School.. Somewhere in Pandacan yata iyon, I don't know the exact place. Basta ang alam ko nag-LRT kami tas sa Pedro Gil station kami bumaba.
Actually, for our NSTP namin iyon. Kaya kahit napagod kami sa kakakuha ng weight, height at visual acuity ng mga bata, okay lang. Sulit naman eh. Ang saya kaya ng feeling kapag nakakatulong.
**********
...Oh! Of course, mga updates pa the weeks after that? Aaaaahh.. Nvm. Just school stuffs lang naman.
Boring ba? Hehe.. I don't think so.
**********
So, now it's time for the
4 Things Quiz
:
Name four books on your bookshelf:
~The Da Vinci Code
~Walk of Fame
~Chocolate for A Teen's Soul
~Lover Boy
(Proof? Click
here
)
Name four DVD Movies in your collection:
~The Notebook
~American Beauty
~The Prince & Me
~A Beautiful Mind
Name four things on your walls:
~Pictures of me w/ my friends
~A calendar
~A clock
~A corkboard
Name four things in your wardrobe:
~Jeans
~Hankies
~Undergarments
~T-shirts
Name four artists in your music collection:
~Alanis Morisette
~Imago
~Parokya ni Edgar
~Good Charlotte
Name four real life stores you shop at regularly:
~Booksale
~SM Hypermarket
~Penshoppe
~National Book Store
Name four things in your bag:
~Nokia phone
~Wallet
~Eyeliner
~Memo pad
Name four things in your cupboard that are in cans:
~Maling (pork luncheon meat)
~Purefoods Chunkee Corned Beef
~555 Sardines
~Folgers Coffee
**********
That's it.. And I'm gone. Again.