The speech choir contest started at 4:30 pm in the Lecture Hall.
And you know what? Up to the very last minute, I cried a lot.
Geez. Maybe you were thinking it was because I was kinda tense. Well, it's also a reason because ako yung pang-entrance. And since I needed to look scared & tired from running while saying "Tulong! Tulungan niyo ako. May humahabol sa akin. Kailangan kong magtago kundi papatayin nila ako!"... internalizing really helped. I was able to burst out my emotions while acting.
We were the last to present so the very minute we finished our speech choir, an intermission number from section 26 began. And after 5 minutes or so... the next moments became so overwhelming.
*drum rolls*
Section 14 got 2nd place. Then, the emcee tried doing a lame suspense in announcing thw next two winners. *chuckles*
She said: "Odd numbers na lang ang nag-aagawan sa pagiging champion & 1st place."
I felt so down the very moment she said that. We are section 24, and for crying out loud. It is not an odd number.
Then, noong ma-feel kong naging useless ang ginawang paghila-hila nila Villy & Glenn sakin as a part of the act... The emcee said: "First place goes to... #5!"
You could just imagine my surprise when I asked: "Five as in us? Hindi section yung sinabi niya right??"
My groupmates were all smiles when Abu received the award. It was on the paper bag. We opened it and found many highlighters... Wahahahaha... We won highlighters, is not that something to laugh at?
But then, the important thing is we won. Even though, mukhang shoongakz yung costume namin dahil nong Monday lang sinabi ni Sir Flores na kami pala ang napili niya from the 7 section under him. And since each section ay may 2 groups, choosing us from 14 groups was a great achivement na. Eh yun pa kayang matanghal na second among the best (because ang nagchampion ay yung 3rd na nagpresent... I forgot their section.)... mas napakalaking achievement na no'n right?
That's why we are really thankful to God na kahit sobrang na-rush kami in all aspects of preparing for a major contest... we still made it. And I'm so proud that I did it. Nagawa kong ilabas iyong best ko sa pag-arte. They told me I did a good job. And I believe we all did a good job.
Thanks kina Marlyn, Ate Fledz, Ate Kathee & of course kay Ate Loriz na tumulong samin. Pati na ang group 1 ng section 24 na tinulungan kaming magbody paint.
Waaah... We love you guys!
**********
And then... this was a pic taken after our last practice outside school last last week...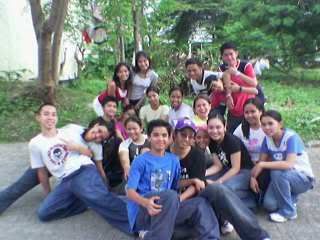 I will gonna miss those times when we have to attend a practice for Sabayang Pagbigkas early in the morning. At ang meeting place ay sa bilyaran sa tapat ng Heritage.
**********
Anyway, I have to rest na.. We still have Alay-Lakad tomorrow. And on Tuesday, we have recollection in Villa Luisa, Tagaytay City. Geez.. I'm so excited.
I think I'll be on hiatus for many days starting tomorrow. Haha.. ;p