Hellen Keller once said,
Never bend your head. Hold it high.. Look the world straight in the eye
. I believed that we are all different. We have our own insecurities and mistakes.
With all the peer pressure, it is really tough being a teenager. That is why I am quite lucky because I already figured out who I am and what I really wanted to be. For those people who do not know me personally, I will make a brief description about myself.
Unang-una, friendly na talaga ako ngayon. Kahit hindi ko masyado feel ang isang tao, I still try to be open-minded. Mahirap kasi magkaroon ng enemy, nakaka-affect sa studies. College life taught me that.
Sa totoo lang, I really hate to fall at anything. I may have short tempers pero I have the ability to hide my anger and discontentment. Siguro for me, iyon na yung valuable asset ko.
I think I am now sensible. Once is enough already. I wll never let my heart rule my head again. Ika nga sa isang forwarded SMS:
Nong bata aq, nagma2dali aqng 2manda pra mranasan kng pano mgmhal. Ngaun nranasan q na, don ko naicp na ms mdali plng gamutin ang 2hod na nsugatan kysa ang pusong nsaktan!
I prefer to strengthen my intellect nga pala by reading lots of books and magazines. Sa books, Harry Potter at Sherlock Holmes talaga ako. As in solid! Sa magazine naman, Candy Mag. Two years na akong nagko-collect non.
Ayun.. Just sharing.
**********
Hehe.. Kami ni Nini yan.. Remember Nini? As in Christie Ann Fabros Perion..? Guys, mga highscool classmates ko jan since elem days? Haha.. Kami friends ngaun.. Ayon.. Wala lng.. Etong girl na toh na may boyfriend na in the person of Charles Bautista. Haha... Grav.. Mgaling toh sa algeb. Pinerfect ba naman quizzes buong midterm??! Haha..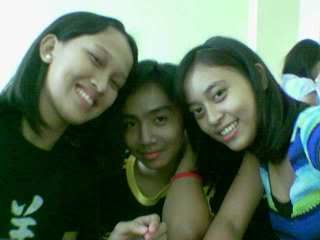 Si Rob, isa sa barkada kong silahis dati.. Certified gay na ngaun.. Luv ko yan. Haha.. Kinikilig yan sa guys na mga astig magdala ng damit at higit sa lahat supah cute ang mga crushes nyan. Ang crush nga nyan ngayon ay si *toooot*... Hehe...
Tas sa tabi ni Rob ay si Angel. Ang classmate kong anak ng politician in Malvar, Batangas. Pero in fairness, nice nman xa and friendly. Astig nga eh.. Seatmate ko siya sa Gen Psych namin. Ayun...
Actually Nikko was my very first newfound guy friend nitong college. Pero mga after 1 week, sa ibang tropa na siya sumasama. Pero ok lng iyon. Nong parang hindi na siya sumasama sa amin ni Nini, dumagdag naman sa barkada namin sina Rob, Jecha, Ross, Es and Thal. Next time share ko sa inyo iyong pics nmin na kompleto kami sa barkada. Haha..
Pero, I will never forget my highschool bestfriends. For me, iba pa rin talaga ang highschool. Pero mas feel ko ang college, kasi sa highschool bihira ako makagala. Actually, I could never think of a moment (in highschool) nakauwi ako after eight o clock without a sermon from my mom or dad. lol..
**********
Anyways, di ko pa finish si Sherlock Holmes, pero may iba na naman akong binabasa. Ahhh!! Kailan ko kaya matatapos si Sherlock Holmes..? Hehe.,., Kahit fave q un, parang nakakatamad ng tapusin. Dami kasing cases eh. Kaya kay Valerie Wesley muna ako...c:
**********
Whew! Two days na lang and I am a year older na naman. I am about to enter the world of
sweet sixteen-ers
!
Advanced happy 16th birthday to me.. ;p