I came across at an article in the Philippine Daily Inquirer. Sa title pa lang, na-attract na iyong attention ko. It was
A graduation gift
by Mabelle Biong Dajao, a twenty year-old contributor from Cebu City. Actually, hindi pala siya article. It is her letter to a certain Butoi. If I am not mistaken, kapatid niya na mag-ha-highschool pa lang.
But it was too lengthy. Kaya iyong favorite part ko na lang ang ishe-share ko sa inyo. Here it goes:
I am going to spill some secrets, mostly lessons that are not taught in class. But do not let your learning stop here because even if you memorize all these, there are still more lessons that you will learn on your own.

The hardest lesson I have learned is that friends are earned. They do not just present themselves to you as you wish. But you have to be a friend first before you can find one. They are living testimonies of your worth as a person, so choose your friends wisely.

Choose but do not discriminate. Do not judge people according to the capacity of their brains or the thickness of their wallets or the extent of their popularity. Big brains do not necessarily go with big hearts. People with fat wallets usually have fat egos. Popularity does not guarantee a good character. Look into their hearts and the way they live their lives and how they accept you for being you.

Do not impose yourself to people who clearly do not want to be with you. Some people will hate you no matter how good you are to them. Steer clear of these monsters; they will feed on your self-esteem. You are under no obligation to prolong the existence of such hideous creatures.

People hate and love you for no apparent reason. But try to be lovable anyway. You have nothing to lose in being good.
Oh. How nice. Butoi is very lucky to have a sister like Mabelle. Next time, isusulat ko pa iyong mga kasunod. But if ever, you have a copy of June 9, 2005 na Philippine Daily Inquirer, hanapin niyo lang iyon sa Opinion. I am sure you will like it.
**********
Which is which?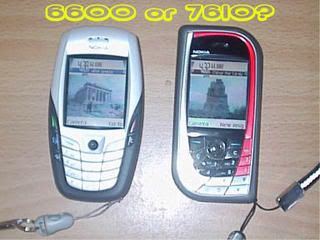 Just guess. Which is mine? Nokia 6600 or Nokia 7610?
Want a clue? Aight. I will give one.
Vision becomes reality
. Hmmm.. What cellphone ad was that again?
**********
My first week as a college student is pleasant. Let me tell you why.
TUESDAY
. Since, monday (June 13) was considered a holiday, the next day became my first day funk. My mom accompanied me hanggang sa loob ng campus. Honestly, I am quite embarrassed because I noticed na ako lang ang sinamahan ng parents papunta doon. Not that ikinahihiya ko ang mom ko. Basta hindi ko mai-explain. And I know napagdaanan niyo rin iyon.
I was lucky that I know someone in my section. And that is Nini. For my elem classmates, you would surely remember Christie Ann Perion. Siya iyon. I met her just before entering our first P.E. class for that day.
WEDNESDAY
. I got my first grade as a college student during a group work in Chem Lab. The instruction was to name at least five or more lab equipments and give their definition in a minute. Naka-anim si Dia, ang nabunot sa amin to represent the group. 85% ang grade namin. Not bad for starters like us.
During our lunch break sa Blue Wave, nakisabay sa amin si Nikko, a new friend.
THURSDAY
. Our Logic professor was amazing. He has a sense of humor that makes us understand the topic more. He could even make the whole class laugh at loud. Cool!
FRIDAY
. I am not quite familiar with the topics being laid down to us by our Theology professor. That is why I promised to read the Bible na. Especially now that meron kaming assignment and that is to read Genesis 1-5. Baka may short quiz rin kami siguro doon.
We had our merienda nga pala sa aming canteen, ang Blue Wave. Kung dati, dalawa lang kami ni Nini.. Now, we are four na. Ako, si Nikko, si Nini and si Robert. My seatmate in our Logic class.
**********
Back to cellular phones, if you're guess was this.. then you are absolutely right.
Lol. You're just so damn correct. That's all. In fact, that cellphone is my new baby right now. Nokia 7610 is my father's. Gusto ko ngang arborin kaso ayaw. Hehehe..
**********
Oops. I almost forgot to tell you. I made Grahams Mango Float (though, the mango is not on top of my finished product) the other day.
These are the ingredients (below left):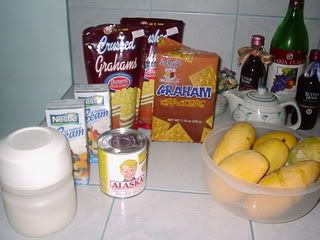 And the finished product of yours truly (below right):
I know, I know. It may not look pleasing (my dad even said *parang mga uod naman iyan* when he saw the image on my digicam) and no offense sa sarili ko, even I myself thought that it was definitely so unlike the desserts being served on some posh restos. Fortunately, baliktad naman iyong look niya sa lasa niya. Masarap naman. Medyo matamis, pero at least hindi pa naman siguro magiging cause iyon ng diabetes.
Next time na gagawa uli ako, I will try to make it look good na rin. Para at least, sa appearance pa lang.. sobrang gaganahan na silang kumain ng only dessert na alam kong gawin. *winks*